21 Jun

CV Tips That Get Your Hired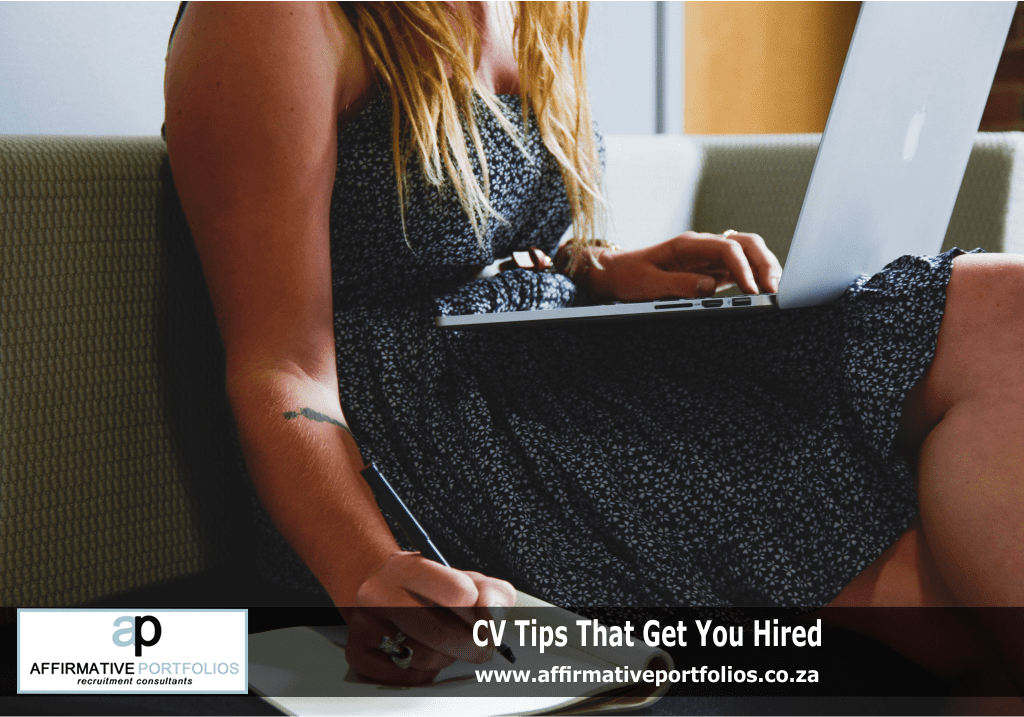 We at Affirmative Portfolios understand how overwhelming the process of writing an effective CV can be and want to help job seekers reach their full potential. Our CV tips are intended to help you produce a clear, strong and credible CV that any recruitment company would be happy to receive. Attention to detail, qualified statements and appropriate references are just some of the CV tips that can lead you to success…
Explain Your Employment History Fully
The employment history segment of your CV is the ideal place to elaborate fully and sell your skills. List each position you have had with the following alongside: job title, employer, the dates you worked and a line summarising the position. Thereafter you should bullet point your key duties for that job, including skills and achievements.
Make each bullet point work for you by including figures that support your skills in that position. Job seekers in the bookkeeping and payroll field do well to mention the number of people they have dealt with on payroll, or the point up to which they balanced the books.
Credible References Are Key
The references you include on your CV are meant to be past superiors who can vouch for your work ethic, abilities and character to a potential employer, however, many candidates seem to muss up their chances with inappropriate referees. A referee that you are related to or friends with is usually avoided, but if you have only ever worked for family and friends, at least mention this alongside the reference for the recruitment agency's benefit. The recruiter will know that the person they are contacting is potentially biased and will make allowances for this. If they find out later in proceedings that you concealed your relationship to the referee, it will not look good.
Mind Your Mistakes
One of our most important CV tips is to make sure there are no mistakes on your CV. Once you have drawn up a great CV, proofread and edit your writing to remove spelling errors, grammar errors, repetition and clichés.
Recruitment agencies are always inundated with CVs, and something as simple as a spelling error could set you behind another candidate. Most word processing applications have built-in spellcheck capabilities to help you weed out any mistakes.
A Tailored CV Gets Noticed
It is a great idea to type up a general CV to keep for your records, but Affirmative Portfolios highly recommends tailoring your CV to get the best results. For every position you apply for, highlight details, skills and experience that is relevant to that position, thus showing the recruitment company that you have gone the extra mile to identify what the position requires and how you can offer it.
All in all, the aim of these CV tips is to guide job seekers towards a concise, detailed CV that best presents their key skills to potential employers. Follow our CV tips and check out our helpful blogs to work towards a brighter future. We at Affirmative Portfolios are available to chat about the permanent and temporary employment opportunities that we can offer you.